Lundi, je suis entrée dans le vif du sujet sans même prendre le temps d'une introduction, d'une présentation en dépit de l'enseignement répété de mes maîtres sur l'art de la dissertation.
Last monday, I went straight into my new project without indeed thinking about prefacing, despite all I learned from my great college teachers.
Je suis devenue, grâce à l'opiniâtreté et à la générosité bienveillante de Noëlle, une stagiaire assidue de
Didier Wetzel
. Je ne sais pas ce qu'il en est de Didier mais je ne désespère pas d'arriver à tirer quelque chose de son talent.
Thanks to my dear Noëlle, I became a
Didier Wetzel
's pupil (blissful cabinetmaker). I don't know what's on Didier's mind, but there is no doubt his own skill will run on me.
Bien sûr, depuis cette rencontre, je déborde d'activité et ai acheté une grande poubelle. Tous mes essais ou plutôt erreurs passent dans une sorte de purgatoire, purgatoire que je vous montrerai prochainement.
Since I met that gentleman, I am working hard on wood and I bought a large bin ! All the tests I mad, or should I say all the mistakes, go through a kind of
purgatory, purgatory that you will see soon.
Forte de cet embryon (avorton ?) de connaissance, j'ai choisi de me faire les dents sur des meubles aux lignes simples et pures (pas si éloignés de mes styles de prédilection Louis XVI et Directoire) : les meubles Shaker.
Regarding my brand new poor knowledge, I have choosen to try and try again on the simple and pure design (not so far from Louis XVI and Directoire styles) of Shaker's furniture.
Point de bigoterie, je suis une héritière de Mai 68 ! Même si en 1968 j'étais un peu jeune pour chercher le sable fin sous les pavés parisiens, il a dû rester en moi quelque chose comme "Ni Dieu, ni Maître" qui m'empêche définitivement d'adhérer à aucune chapelle.
It is not because of faith, I am some kind of May 68' heiress ! I maybe was to young in May 1968 to look after fine white sand under Parisian cobblestones, but thomething like "No God, No Master" last in me enough for not being able to get envolved in any kind of religious believe.
J'ai adopté le design Shaker et non le ferveur mystico-religieuse de cette confrérie née dans la persécution en France et exportée en Angleterre puis vers le nouveau monde, la Terre Promise : les États-Unis.
It is the design of the Shakers that I have made mine, not the religious enthousiasm born in French persecution exported in England then in the Holly Promise Land : the United States of America.
Je suis absolument fascinée par la douceur, l'ordre et la paix qui se dégagent de ces meubles et de l'agencement des pièces. Pour quelqu'un d'aussi désordonnée, futile et volage (quand je suis satisfaite de moi, sinon velléitaire lorsque je me déteste) que moi, cet univers est comme l'horizon qui se dérobe devant le pas du marcheur. Toutefois, les contraires ne finissent-ils pas par s'épouser ?
I am completely hooked by the softness, the tidiness and the peace of the furniture and the rooms agencement of the Shakers. I am so messy, so frivolous and
flighty and that vibes looks like one's vista fended off. But don't the opposites get married sometimes ?
Je ne pouvais donc m'arrêter à la conception puis à la réalisation des meubles uniquement. Il me fallait un écrin pour mettre en scène la beauté utilitaire du monde Shaker.
I just could not only workout and achieve furniture. I nedded a case to improve "Beauty rests into utility" Shaker's motto.
Comme les enfants, j'ai souvent (toujours ?) les yeux plus grands que le ventre. Alors je me suis dit : une maison, oui, c'est cela une maison pour explorer toute la diversité Shaker. Maison que j'ai entrepris immédiatement de construire d'après des plans achetés sur internet :
Like kids, I always want more that I can catch. And I said to myself, a house, yes a house to explore the complete Shaker's world. And I built it from plans bought on the web :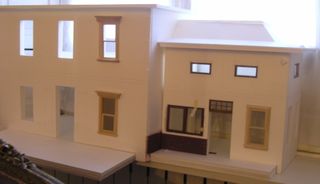 Et puis, le temps aidant et la raison l'emportant, mes prétentions ont fondu !
But, the time is a great helper and I went through my initial vainglorious !
Alors, voilà : une scène de 500 x 650 X 250 mm. Voilà tout ce qui reste !
And here is what last : a 500 x 650 x 250 mm scene !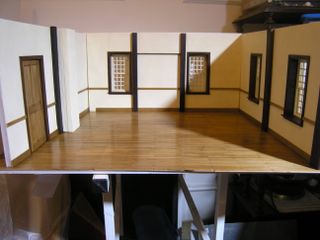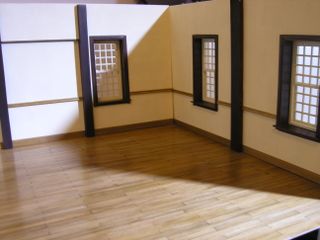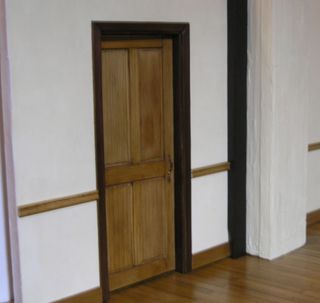 Special note to all my English readers : I swear on my honor that I have not used Google Translation, despite for sure the funny things you might read ;)