C'est le quatrième jour d'affilée que je publie ! Incroyable, après de si longs mois en attente. De si longs mois passés à remplir ma poubelle. Très bientôt, le cimetière de mes essais avortés ou en attente.
Amazing ! It is the forth time I am posting on my weblog. U

nbelievable since I have been silented for such long months. Actually I have spent (spoiled ?) my time filling my bin. Very soon, I will show you my

"cemetery".
Place à l'avancée des travaux :
Let's see what's new in my Shaker Bedroom :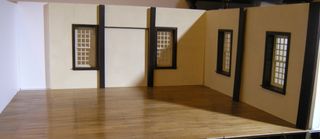 Finalement, et après peu d'hésitation, j'ai préféré peindre mes fenêtres (qui m'ont donné du fil à retordre, n'en doutez pas) dans le même coloris que la pièce elle-même.
Je voulais une pièce chaleureuse qui sent le propre et le meuble ciré. Et il semble qu'elle prenne bonne tournure.
Finally, and without any doubt, I had rather painted the sash windows the same color as the walls.
I wanted a warm fresh clean room that smells furniture waxed and my aim seems to be reached.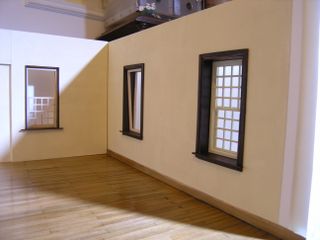 Une prise de vue avec la porte en cours de montage.
A shot with the unfinished door.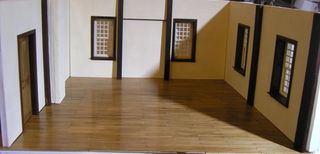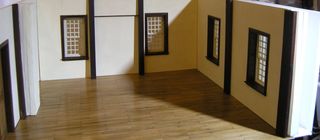 J'ai remplacé les poutres de soutien pour leur donner de l'épaisseur et de la profondeur.
I have changed the beams to enhance the room. They are deeper and heavier.